Chief Ben Alexander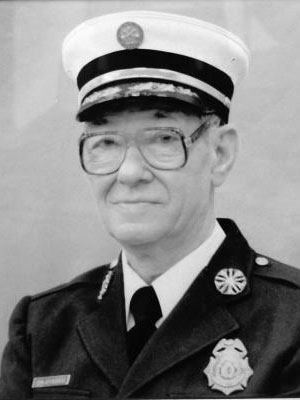 1965 - 1982
Chief Ben Alexander served on the department for 31 years and was Chief for 16 years. He was promoted to Fire Chief after Chief Rogers was killed in an accident.
Chief Alexander worked for Barber Colman, served as a Village of Roscoe Trustee, and played ball for the St. Louis Cardinals farm team as a catcher. He served in the Navy in World War II and it was in the Navy that he learned firefighting. He fought his first fires in the South Pacific, and when he came home, he decided to help his town by putting his fire knowledge to work as a volunteer.
Chief Alexander led the department through a series of rapid changes in response to the challenges of a growing district. There was an addition to the original Station One in 1959/1960 as well as the building of the new Station Two in 1978. He oversaw the beginning of the new medical division with the addition of trauma units as well at the start of inspection and investigation bureaus. He was always seeking ways to improve response time and due to rapidly changing communication technology, he was continually updating the equipment. When Chief Alexander retired on March 1, 1982, the department had grown to have two fire stations as well as thirteen pieces of fire apparatus including a boat and two grass rigs.