Chief Cobby Rogers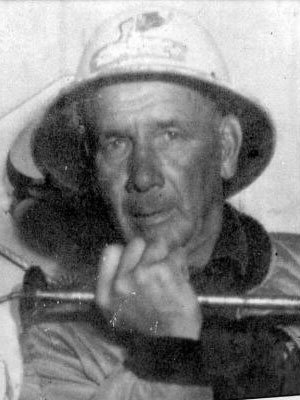 1952-1965
Chief Howard 'Cobby' Rogers served on the department for 32 years and was chief for 13 years. Chief Rogers was a self-employed contractor, carpenter, mason, and owned a car repair shop. He was a tall man at six foot five inches and was very well-known in the area. He also became the first Village of Roscoe President in 1965.
Chief Rogers always seemed to have something going on, from an aggressive anti-fire campaign to holding an extensive training program, to acquiring every piece of equipment possible in order to raise the insurance rating from the Illinois Inspection Bureau. The district received an A-plus rating during his term, the highest attainable without fire hydrant service at that time. He would also have some of his workers regularly help him fight fires or drive a fire truck. He was not only in charge of the big addition to the original Station One in 1959, but he also did the masonry work.
Chief Roger's career was cut short when he (55) and his wife, Gladys (52), were killed when their car crashed with a train in Rockton on December 23, 1965. In his honor, a memorial was built at the original Station One with flagpoles and a memorial plaque. "I was only five, but I got to raise the first flag at my grandpa's memorial!" remembered Jean Rogers-Wedel. The memorial was moved to the current Station One location when it was re-located in 1994. The memorial was expanded to include memorial bricks for any Harlem-Roscoe Firefighter who passes and has served more than ten years on the department. When the Chief passed in 1965, the one station fire district had grown to include six vehicles and a boat.